Family's hen hatches duckling eggs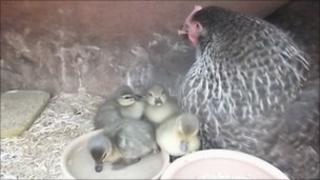 A "broody hen" has become a surrogate mother to four ducklings.
Mercedes Nayar keeps the hen, Henny Penny, together with other chickens and ducks in her garden in Castor, near Peterborough.
She said it had become clear that the hen wanted her own brood, but Mrs Nayar did not own a cockerel.
A friend donated fertilised duck eggs which Henny Penny sat on, and a month later they hatched. She is now treating the ducklings as her own.
Mrs Nayar's 11-year-old son, Ben, has been given the task of looking after the hen and her family.
'Protective mum'
He said: "Two ducklings hatched one day and the other two came out the next day. It's funny because when they hatch they're really tiny but they grow very quickly.
"I've got to give them their water and food, then check on them every hour to make sure they're all right.
"Henny's turned into a really good mum. She's really protective.
"If she's in the pen and hears them calling, she comes straight out and gets all the little ducklings underneath her."
The family has filled a large plastic bowl with water, turning it into a makeshift pond for the ducklings. Ben said as soon as they saw the water they "jumped straight in".
A spokesperson from the Domestic Fowl Trust said it was not unusual for hens to behave the way Henny Penny was doing.
"As long as the hen is really broody she will sit on anything and then bring them up as her own."