Row over part-time firefighters in Cambridgeshire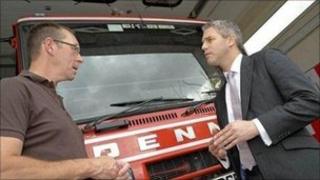 A row has broken out after leaked figures suggested some part-time fire engines in Cambridgeshire were often unavailable for use.
The figures from June this year showed Swaffham Bulbeck's pump could not be used for 77% of the time - compared with the county average of 20%.
North East Cambridgeshire MP Stephen Barclay claimed the service was not taking on part-time firefighters.
But the fire service blamed a difficulty in recruiting in some areas.
Cambridgeshire Fire and Rescue says it has recruited 14 retained firefighters since April 2010.
Retained fire stations are staffed by professional officers who fit in their service around full-time jobs outside the fire service.
They have to live or work within five minutes of their station.
Recruitment problems
In figures seen in a Cambridgeshire Fire Service document leaked to Conservative MP Mr Barclay, Swaffham Bulbeck's retained pump was unavailable 77% of the time, Sutton's was unavailable 71%, while Manea's was unavailable 63% of the time.
Neil Newbury, assistant chief fire officer at Cambridgeshire Fire and Rescue, has not seen the document but accepted the figures sounded accurate.
He said it was due to the lack of availability of recruits in the three affected villages.
He continued: "At the moment, with the current economic climate, people are more concerned about their primary employment.
"It's also very difficult to recruit on some of those stations - certainly the quieter stations such as Swaffham."
The fire service is considering merging Swaffham Bulbeck's fire station with Burwell's, which is three miles away, to address the recruitment problem.
He also said the service had recruited eight firefighters in Manea since 2005, but also lost eight people.
Cambridgeshire Fire and Rescue is considering closing Manea fire station as part of plans to save £6m from its budget over the next four years.
The nearest fire station is at Chatteris, six miles away.
Mr Barclay said: "I think [people] in Sutton and Manea will be staggered to hear the fire service has been trying to recruit and local residents have been unwilling to come forward."