Army fantasist John Livesey jailed for lying to court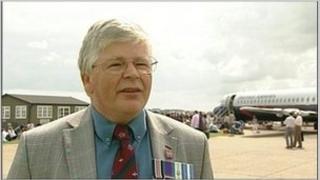 A military historian who faked an illustrious Army career has been jailed for three years.
John Livesey, 57, had been found guilty at Peterborough Crown Court of perverting the course of justice.
Livesey, of Nursery Gardens, Purley-on-Thames, Berkshire produced false references after he was convicted of benefit fraud in 2004.
Passing sentence, Judge Nic Madge said: "Much of your life since 1974 has been a lie."
Livesey, formerly of Springfield Road, Sawston, Cambridgeshire was caught out after he falsely claimed £30,000 in benefits while working at Imperial War Museum, Duxford.
For decades Livesey, known as Jack, told friends, colleagues and his closest family that he had served with distinction in the Parachute Regiment.
He even claimed to have advised production crews working on the film Saving Private Ryan and TV series Band of Brothers.
'Personality disorders'
In fact, his Army career amounted to a stint in the Catering Corps between 1971 and 1974.
Livesey's lies came to light following his conviction for benefit fraud in 2004 when he produced references from genuine veterans who had been taken in by him.
Roger Harrison, in mitigation, said his client had been diagnosed with histrionic personality and dependent personality disorders.
This meant Livesey could not tell "fact from fiction", Mr Harrison said.
He added: "He had established himself as a respected military historian. Obviously he has now lost that reputation and lost his occupation."
Mr Harrison said his client was physically disabled and had restricted mobility.
Suicide attempt
Previous psychiatric reports found no evidence of such disorders and the judge questioned Livesey's physical disabilities.
Livesey told those who knew him he reached the rank of Colour Sergeant and that he was awarded a medal for gallantry after serving in the Falklands and Northern Ireland.
In truth, he was discharged from the army in 1974 after he threw himself from a bedroom window in an apparent suicide attempt following a four-month spell in Northern Ireland.
Livesey denied perverting the course of justice, telling jurors he had not been aware the references were being submitted by his partner Bridget Pollard, who herself had been taken in by his lies.
Livesey told the court he had constructed a "fantasy world" to compensate for his early discharge from the Army on medical grounds.
As well as jailing Livesey for three years, the judge ordered that he pay £3,500 in prosecution costs.