Cambridgeshire company's 'poor quality' apprentice letters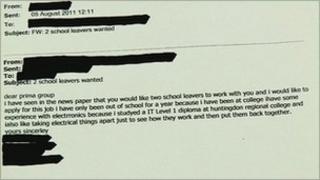 A Cambridgeshire electronics firm is struggling to fill its apprenticeships after receiving a small number of poor quality applications.
The Prima Group has been based in St Ives for 20 years and wants to take on more young trainees.
It said it offered job security and full training but was disappointed by applications received so far.
Many were littered with spelling and punctuation errors or made little sense.
It said it had hoped to attract school leavers but believes those suitable for apprenticeships were not being encouraged to apply.
It is conducting interviews this week but said it may have to continue its search if candidates do not come up to scratch.