Dog neglect: 'Worst case' ever seen at Cambridgeshire centre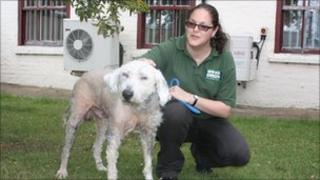 An animal charity is appealing for information after what it says is the worst case of neglect it has ever seen.
An Old English sheepdog needed medical treatment after it was abandoned outside Wood Green's Godmanchester centre in Cambridgeshire.
The dog, named Floyd by staff, had hair so long and matted that he struggled to see, hear or go to the toilet.
Floyd's claws were so long that he was in severe pain when he attempted to walk.
The dog was hauled out of a dark-coloured vehicle and tied up outside the centre at 01:30 BST on Saturday.
Floyd, who is about 10 years old, was found by a member of the security team who took him inside.
He received round-the-clock care from vets and nurses who removed 13kg (2st) of hair, clipped his two-inch long claws and removed cysts and grass seeds from his paws and ears in a two-hour operation.
'Shocked and distressed'
Floyd will also need dental, ear, eye and skin treatment.
It is also thought that he was poorly exercised and will need to build up the muscles in his back legs and learn to walk normally again.
Wendy Kruger, head of Wood Green's dog section, said: "We were all extremely shocked and distressed at Floyd's condition.
"It is the worst case of animal neglect the charity has ever seen. Our main priority was to make him as comfortable as possible while we tried to treat his many ailments.
"To allow an animal to reach this state of neglect is criminal and would warrant prosecution under the Animal Welfare Act."
Anyone with information about Floyd is asked to contact the RSPCA's 24-hour cruelty line.