Supermarket plan for Peterborough Royal Mail site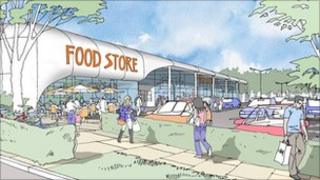 Plans for a £20m supermarket in Cambridgeshire have been put forward.
Property developer Land Securities wants to build it on the site of a former mail distribution centre at Maskew Avenue, Peterborough.
There are already several large stores in the area off Bourges Boulevard, to the north of the city centre.
Land Securities says the proposals for the 6,900 sq m supermarket would create 300 jobs and will make good use of a brownfield site.
The company said it did not know yet which major supermarket chain would lease the store.
Proposals also include a 490-space car park, a cycle park with a bike shop and a children's play area.
'Shocking eyesore'
Project manager Riccardo Mai said: "The site's accessibility makes it ideal for the proposed use and we think the cycle hub will become a great facility for the community.
"Also with this investment, we will help boost the local economy by creating many new jobs."
The store would have wind and solar energy generation and green roofs as well as charging points for electric cars.
Charles Swift, independent councillor for north Peterborough, said at the moment the site was a "shocking eyesore".
"It's time there was a massive injection," Mr Swift said.
But he said the city council had previously turned down applications for a retail park on the site and he thought the proposals might have a rough passage through planning.