Sawtry residents 'vigilant' after sex shop opens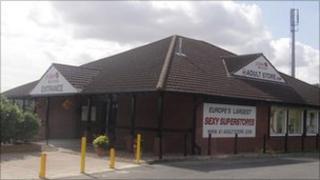 A sex shop has opened close to a Cambridgeshire village despite opposition from residents.
The Pulse and Cocktails branch has taken over the site of a former restaurant off the A1(M) near Sawtry.
Some residents say the location is "totally inappropriate" as children will pass it on their way to school.
Hundreds of people opposed the company's application before Huntingdonshire District Council approved the plans in December 2010.
The council said the location would attract passing traffic which would have no reason to go into the village.
One condition of granting the licence was that the shop must not use the village's name in its title or any advertising literature.
'Fearing the unknown'
Graham Kidd, one of Pulse and Cocktails' directors, said that now the shop had opened he did not expect continued opposition to its location.
"It's all about the fear of the unknown," he said.
"People were worried about the kind of customer that our shops attract, but having 24 shops I know that the kind of customers we attract are no different from those that go to supermarkets or anywhere else."
Councillor Darren Tysoe, who represents Sawtry on Huntingdonshire District Council, said he had opposed the decision on the grounds that the shop would "harm the character of the village".
"We will be quite vigilant to make sure that they are adhering to all the conditions of running an adult shop or any local conditions put on by the district council," he said.