Amy Winehouse inspires church service for Cambridge youngsters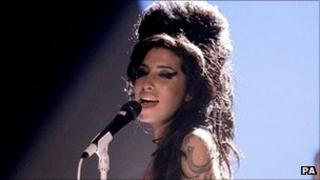 Lessons learnt from the life and death of singer Amy Winehouse are being used to encourage more young people to attend a Cambridge church service.
St Edward King and Martyr has run a fortnightly Gothic Eucharist for the city's Goths since 2006 and now plans to rename the service On The Edge.
The Reverend Dr Malcolm Guite said the first service on Tuesday would focus on the music and lyrics of Ms Winehouse.
"She was a very honest writer whose themes are relevant to many," he said.
"We have often played the music of non-Goth artists in our evening service, so using Amy Winehouse in the new service is not new," Dr Guite explained.
"We use the music of many artists who we feel have something to say."
'Theatre of pain'
Dr Guite said Winehouse's music reflected many of the issues faced by young people and her attitude to her own life, and the way she was portrayed in the media, were similar to problems faced by both the Goth and non-Goth community in Cambridge.
"She was victimised by the media, some of whom made her life a theatre of pain," he said.
"But the way she dressed, the exaggerated hair and make-up, were her way of pushing that criticism back at them and saying 'I'm going to do this my way', and I think that's very admirable.
Dr Guite said the decision to change the Gothic Eucharist had been made because a number of people wanted to attend the services, but believed they were intended only for Goths.
"They appeal to all sorts of people," Dr Guite said.
"We will still have 'Gothic elements' in the service. We will still discuss issues that often do not come up in church such as self-harm, depression and the relationship between body image and what society dictates is right, and acceptable.
"On the Edge will continue to look at these edgy issues but it will, we believe, have a broader appeal."
The first service, Back to Black, takes place at St Edward King and Martyr in Cambridge on Tuesday at 20:00 BST.