Peterborough names new road after Italian twin city of Forli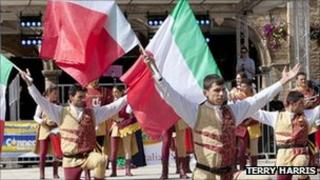 Links between Peterborough and its Italian twin city, Forli, have been strengthened after the council named a new road Forli Strada.
The city was twinned with the Italian sea port, which is 40 miles (65km) from Bologna, in 1991.
The road will be the main access route into the new Great Haddon Employment Area which is expected to create around 8,500 jobs in Peterborough.
Construction of Forli Strada is expected to be completed by mid-2012.
The road was officially named at the start of Peterborough's annual Italian Festival.
The city has the fourth largest Italian population in the UK and the festival, which was attended by television chef Antonio Carluccio, highlights the influence of the Italian community on Peterborough.
Representatives from Forli, an agricultural and industrial centre, also travelled to the city for the festival.
The Great Haddon employment zone is being created by Roxhill Developments, and will support general industry, business and office space, plus warehousing and distribution areas.
The Stobart Group has already confirmed that it will be one of the first businesses to create a base there.