Cambridge 'eco school' opens to first pupils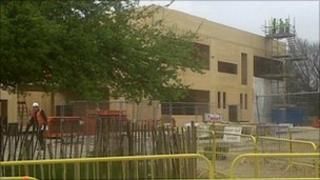 Cambridgeshire's "greenest" school opens to its first pupils later.
Queen Emma Primary School is in Gunhild Way, Cambridge, and has eco features such as a ground source heat pump, which uses the earth as a heat source.
"It's the most sustainable school in Cambridgeshire," said Caroline Peet, Queen Emma's headteacher.
The school, which cost £7m to build, will eventually have room for 480 children, but has opened only for reception pupils at the moment.
Outdoor classroom
Other green features include harvesting rainwater to flush the lavatories, and a water drainage system incorporated into a wetland area.
Reception pupils will have the option of using an outdoor classroom.
Clare Abbersteen, the assistant head at Queen Emma, said: "There is also a range of different outdoor areas, including a scented garden, where we'll have lots of herbs and different plants that children can use, and a butterfly garden, which will be lovely in the summer."
Queen Emma Primary School is part of the Queens' Federation of schools, which includes the neighbouring Queen Edith primary school. Caroline Peet is the overall head of both schools.
When it is complete it will have 16 classrooms, 60 members of staff, a kitchen and sport facilities including netball courts and a football pitch.
The build should be finished by October. Each year it will take on another group of 60 reception pupils until it has filled its 480 places.