Arson crackdown pilot rolled out across Cambridgeshire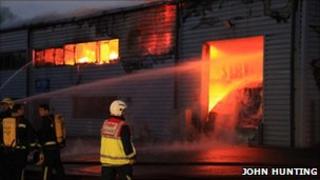 A project to reduce arson attacks in Peterborough has been deemed such a success it is being rolled out across Cambridgeshire.
The dedicated arson investigation unit was set up in the city in spring 2010.
From 2009/10 to 2010/11, the number of arsons in Peterborough reduced by more than half, from 662 to 313.
Martin Boome, the fire officer who leads the unit, said: "We introduced new techniques to help reduce arson in Peterborough, and they were a success."
The Cambridgeshire Arson Partnership brings together the fire service, police, housing associations and other agencies to tackle fire starters.
Arsonist 'traits'
Mr Boome, from Cambridgeshire Fire and Rescue, has access to police crime files to help share information.
If one district appears to have a spate of arson attacks, an action plan is drawn up by all those involved in the crackdown.
In addition, fire officers have been trained to look out for the perpetrators when they arrive to tackle a fire.
Mr Boome said: "There's a trait of some arsonists that they like to see the blue lights, like to see the firefighters working, and like to see the police arrive, so we ask firefighters to look out for possible suspects."
Mr Boome added that taking the message to schools was also an important role for the new partnership.
He said: "It would be wrong to assume young people are always responsible [for arson], but sometimes they do not understand the consequences of arson and how destructive fire can be.
"But once we talk to people, and once we've had these multi-agency meetings, some of the results have been absolutely superb."
The Cambridgeshire Arson Partnership will now bring the same approach to tackling arson to the whole county.