Hinchingbrooke may not provide stroke care after NHS review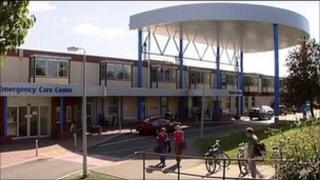 Stroke patients may no longer be able to receive immediate medical care at Hinchingbrooke Hospital in Huntingdon following an NHS review.
A consultation is being carried out into services offered to patients in the first 72 hours following a stroke.
NHS Cambridgeshire says specialist care is "not viable" at Hinchingbrooke and patients should be taken to larger hospitals in Peterborough or Cambridge.
However, it added that patients could later be moved back to Hinchingbrooke.
The review is being carried out in line with guidance from the National Stroke Strategy stressing the importance of specialist care in the first few days following a stroke.
'Critical 72 hours'
Gina Radford, a consultant in public health from NHS Cambridgeshire, said: "Not all hospitals that the strategy identified are likely to be able to provide this in the longer term.
"Our preferred option is for patients going to Peterborough or Addenbrooke's just for that first critical 72 hours and then being repatriated as soon as clinically possible to receive the rest of their care from Hinchingbrooke."
Two other options are being considered including patients returning to Hinchingbrooke only for their rehabilitation, or for them to remain at the larger hospitals for the duration of both their treatment and rehabilitation.
Geoff Heathcock, Lib Dem spokesman for health on Cambridgeshire County Council, has criticised the proposals, saying that patients' relatives will be forced to travel much further to visit them.
"We are concentrating services at both ends of the county and taking out that service in Hinchingbrooke," he said.
However, Ms Radford added: "We are talking about 158 patients admitted each year to the hospital with strokes.
"That's 1% of all emergency admissions to Hinchingbrooke, so we need to put this in perspective."