Forensic archive concerns raised by Huntingdon-based scientist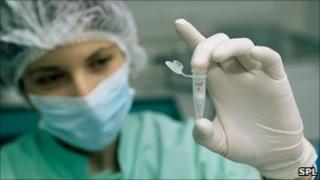 A senior scientist has raised concerns about the break-up of the Forensic Science Service (FSS) and the possible loss of its archive.
In December 2010, the government said the FSS would be wound up, adding many of its operations would be sold off.
Judith Cunnison, who has worked for the FSS since 1980, mostly in Huntingdon, said she was concerned at the future of the "absolutely invaluable" archives.
The government said no decision had been taken on the archives.
The FSS analyses evidence from crime scenes in England and Wales, but has been losing about £2m a month.
It employs 1,600 people and analyses more than 120,000 cases each year.
Ms Cunnison said the forensic archive at Huntingdon was vitally important.
"The archive, the case files and the retained material are absolutely invaluable, you can't put a price on it," she said.
"Forensic scientists are natural hoarders and they love hoarding stuff and samples because they know that one day even though they may be dead and gone the case could be solved."
She added: "There is an emotional attachment to the FSS by the employees based on the work we do and there's an emotional attachment to the local labs...
"You know if something terrible happens in Cambridgeshire, for example, you know that our lab (Huntingdon) will be going all out to try to work with the police to solve it.
'Extremely worrying'
"There will be a gap in the future that will never be filled completely because we are a national service and there won't be a national service... we will still have lost something."
Forensic scientist John Page, of union Prospect, which represents about 1,000 workers at FSS laboratories, said he was concerned that no decision had been made about the FSS archive.
"It's extremely worrying because this is irreplaceable, no one else has this archive, only the FSS," he said.
"Once the FSS is forcibly closed down by the end of next March then at this point in time we don't know where that resource will be."
A Home Office spokesperson said: "We recognise the importance of the FSS archive.
"The Home Office is currently considering options for the future operation of the archive with Criminal Justice System partners including police forces, the Crown Prosecution Service and the Criminal Cases Review Commission."