Wisbech Town FC ground is new home to 'avid' fan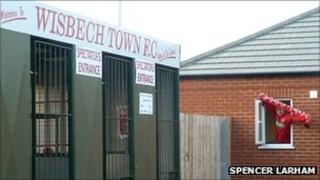 A man from Cambridgeshire is such a big fan of his local football club that he is about to move into a flat built on the side of the pitch.
Spencer Larham has supported Wisbech Town FC for 16 years and has missed only one match in the past eight years.
He is now preparing to move into the one-bedroom home which adjoins the team's clubhouse and changing rooms.
The view from Mr Larham's windows include the entry turnstiles at the side and the pitch at the rear.
The building was erected around a year ago when the team moved to a new ground on Lynn Road in Wisbech.
"Originally the plan was to have someone like an on-site security guard, who would be there all the time, but that didn't really work out and it's been dormant since then," said Mr Larham.
'Weird reactions'
When the decision was made to turn it into a flat, Mr Larham was asked if he would be interested in taking up the tenancy.
"I thought it would be ideal as it's pretty much my second home already down here," he said.
He runs the club website, videos the matches and edits the programme every week.
"Anyone who knows me, knows I'm very passionate about the club so it's quite a logical thing to do," Mr Larham explained.
"I haven't thought of a downside to this, but I don't move in for a week so I can't tell yet. But it's a west facing building so I will get some fantastic sunsets.
"To me it's nothing out of the ordinary. It's not that weird actually, although other people's reactions to it have been quite weird."