FLACK magazine created by Cambridge homeless community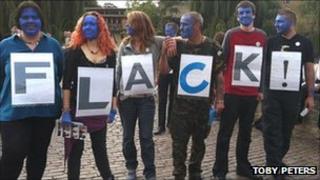 Members of Cambridge's homeless community have helped create a new monthly magazine.
FLACK features articles written by homeless people, who have also modelled for the first issue.
The magazine will be sold at venues across Cambridge and by street vendors on a 50/50 basis, much like The Big Issue.
FLACK replaces Willow Walker, another magazine which focused on homeless people in Cambridge.
Voices heard
The magazine ceased publication two years ago when its funding, provided by the English Churches Housing Group, ran out.
Since then, the creative director of FLACK charity, Kirsten Lavers, has been working towards the production of a new magazine.
"When the Willow Walker lost its funding, I couldn't give up because I'd barely scratched the surface of the talent, stories and commitment of homeless people, to having their voices heard," Ms Lavers said.
"All the content in FLACK, everything that you read or enjoy looking at, is produced by homeless members of the Cambridge community."
The charity said there were about 600 homeless people in the city.
Cindy Reay, who modelled clothing from a well-known department store for the first issue of the magazine, was previously homeless.
"My life fell apart, I had some personal distress, and it just cascaded from there," she said.
"Once you are dispossessed it's very hard to get back on the ladder. You become almost sub-human. People don't see you anymore and it just snowballs.
'Homeless not useless'
"But I got a lucky break. I got somewhere to live which helped a lot, but then getting involved in FLACK sort of finished off the 'being human' process again.
"Doing FLACK gives homeless people a sense of purpose. Basically, we're saying, 'homeless, not useless'."
Ms Lavers said she hoped that FLACK would succeed where Willow Walker failed.
"We're a business this time," she said. "We're a social enterprise so we'll be selling our magazine. That won't bring in all the money that we need to survive, but we're also a registered charity.
"The funding thing is a constant struggle but we've got a three-year business plan and our aim is to be sustainable through the proceeds of the magazine by the end of year three."