Peterborough prison inmates 'feel unsafe', report finds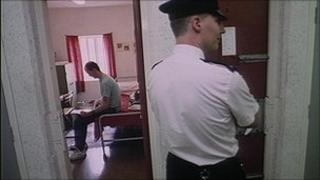 Nearly half of men at a Cambridgeshire jail have reported feeling unsafe there, prison inspectors have found.
HMP Peterborough has been urged to develop further violence reduction and anti-bullying strategies.
Inspectors praised the prison for improvements in relationships between staff and inmates and in reducing the supply of drugs in the jail.
However, the survey revealed that a growing number of men are reporting being victimised while in the jail.
Upward trajectory
Some 47% of men said they had felt unsafe in the jail - a rise from a figure of 34% in 2006.
HMP Peterborough is a category B local prison separately holding male and female prisoners with a designated young offender institution for female inmates.
The report containing the results of the announced inspection of the men's prison revealed that there was an average of 20 fights and assaults each month.
The report said that these were subject to some analysis but the underlying reasons were not always established.
It also found that there was no structured support arrangements for victims of bullying or violence.
But Nick Hardwick, the chief inspector of prisons, said the men's prison at Peterborough had improved and was on an upward trajectory.
"The good environment and staff-prisoner relationships create the necessary foundation for further development," he added.
'Meet the needs'
The inspectors praised the prison's work to support inmates at risk of suicide or self-harm.
It found that time out of cell and access to activities is better than in most local prisons.
Michael Spurr, chief executive officer of the National Offender Management Service, said he was confident that the prison could address concerns raised over violence reduction.
"This will reduce the likelihood of reoffending and thereby protect the public," he added, speaking on behalf of the prison.
The women's prison was also inspected and the report said it had "improved significantly" since the previous visit.
But it said the wide range of women held created a structural barrier to further progress.
In particular, the inspectors found the prison failed to meet the needs of young adult women and those serving indeterminate sentences.