New homes could add 900 cars to Cambridge's rush hour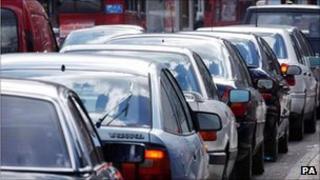 Housing plans in Cambridge could add up to 900 cars to the roads during rush hour if approved.
Cambridge University wants to build 3,000 homes plus student accommodation on a site near Huntingdon Road.
Residents are worried it would increase traffic on roads that are already congested.
Paul Barnes from the university project team said 900 cars was a "small addition" to the number of vehicles already on the area's roads.
Plans for the site between Huntingdon Road and Madingley Road, in the north west of the city, have been submitted to both South Cambridgeshire District Council (SCDC) and the city council.
'Minimise impact'
Residents living in the area have raised concerns about additional traffic on roads which are already congested during the rush hour.
Mr Barnes said he was aware of residents' concerns about additional traffic but said the plans included proposals to "minimise the impact" of the new development. This involved cycle routes, parking facilities and improved public transport links.
"We think, using the county council's own model, that all these elements together leave only about 35% of commuter journeys from the site being made by car," he said.
"The council's planning policy for this site sets a limit of 40% so we're going to be well below that.
"But it still does mean that there are going to be more cars in the area. You can't get away from that."
Mr Barnes added that there were also plans to improve traffic lights and junctions on the surrounding roads.
The plans will be on show at public meetings being held by SCDC in October.