Military Cross honour for Cambridgeshire soldier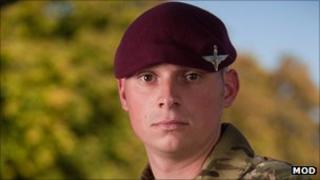 A Cambridgeshire soldier described as "the bravest of the brave" is to receive the Military Cross.
Cpl Martin Windmill, of 2nd Battalion The Parachute Regiment, was honoured for maintaining command and taking enemy positions despite being injured.
He was second in command of a unit operating in Nahr-e Saraj in Afghanistan in December, when his team came under fire from insurgents.
Cpl Windmill suffered shrapnel wounds, but continued fighting for four hours.
He said: "It felt like somebody had stabbed me with a nail in random places in my leg."
'Demonstrated courage'
However, he made the decision not to risk the safety of others by calling in a rescue helicopter.
"In those situations it's hard to call in a helicopter," Cpl Windmill said.
"There were still Taliban in the area so rather than risk a helicopter for me, who could limp, it just made more sense to keep going until we reached a safer area."
He added: "Those sorts of things are done every day out there.
"I don't like the term 'bravest of the brave' to be used, really. Obviously lots of other guys have got some really serious injuries and others have been killed.
"They're the brave ones."
Cpl Windmill's citation reads: "To assault the enemy under fire, post a grenade directly into an enemy position and simultaneously maintain clear command of his subordinates again demonstrated Windmill's courage."
It adds: "Throughout the Battlegroup, Windmill is now simply regarded as the bravest of the brave."
Cpl Windmill, who comes from Cambridgeshire, is one of 16 soldiers to receive the Military Cross in recognition of service during operations carried out between October 2010 and March 2011.