Transplant hostel at Papworth Hospital gets makeover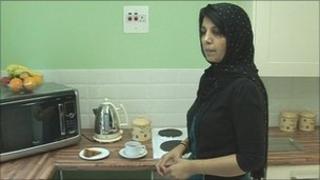 A home for recovering transplant patients has reopened following a £20,000 makeover.
The transplant hostel at Papworth Hospital in Cambridgeshire helps patients and families as they prepare to return home following surgery.
The two self-contained flats in the hostel were redecorated and refitted.
The refurbishment was funded by Making a Difference - Locally, a charity that helps small retailers to raise money for their local communities.
'Vital role'
Nosheen Saeed, who stayed at the hostel while her husband Azeem was a patient, said: "It was such a relief being so close by.
"I could be called in, in the middle of the night, when he was quite critical."
When Mr Saeed was discharged, the couple stayed in the hostel for a further week.
"We felt really safe to be here as the doctors were just two minutes away if we needed them," Mrs Saeed said.
Mary Lilley, development director for the hospital added: "The transplant hostel plays a vital role in caring for transplant patients as part of their rehabilitation, and for their relatives who often travel great distances."
The UK's first successful heart transplant was carried out at Papworth Hospital in 1979. It is the largest heart and lung transplant centre in the UK.