Heatwave brings late strawberries to Cambridgeshire farm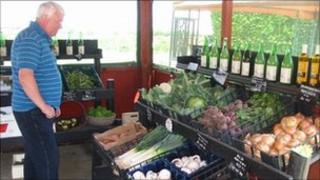 A Cambridgeshire farmer has grown a second crop of strawberries thanks to the unseasonably warm weather.
At this time of year Paddy Ivens, from Hill Farm near Peterborough, normally turns his attention to pumpkins.
But he was surprised to see some strawberry plants bearing fruit at the end of September - something that has never happened before at his farm.
It means that the farm's pick-your-own customers can harvest late strawberries rather than more autumnal crops.
Mr Ivens said an early spring crop and a cooler July and August could be the reason for the second crop.
'Hard to call'
"As far as the strawberries are concerned, we're back to late spring again."
But Mr Ivens warned that the early frost that some forecasters are predicting could wipe out the late strawberries.
He added that only three out of the nine different varieties of the fruit had reappeared meaning that the autumn crop is much smaller than the summer harvest.
Mr Ivens said that 2011 has been "a hard year to call" when it came to growing conditions and he thought other farmers in the east of England would be sharing these experiences.
While his strawberries had made an autumn comeback, he said that part of his sweetcorn crop had failed and other sections that crop were four to five weeks late.