Peterborough railway station's £2.5m revamp begins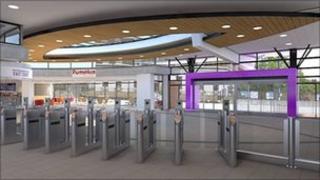 Work has begun on improvements to passenger facilities at Peterborough railway station.
The redevelopment will cost £2.5m and is a joint project by East Coast Trains and Network Rail.
The funds come from the government's National Stations Improvement Programme and East Coast Trains.
Key improvements include a new entrance leading to a larger concourse, which will be lighter and brighter than the current ticket hall.
There are three phases to the redevelopment.
This week work has started on improving platforms four and five, including a new waiting room.
John Gelsey, from East Coast Trains, said: "The first phase will be finished by early next year.
"We then change over to doing the later phases, which include things like providing new toilets on platforms four and five, and the main bulk of the work on the concourse."
Nearly five million passengers use the station each year, and East Coast Trains said services will be unaffected by the work.
The redevelopment is scheduled to be complete by summer 2012.