Cambridgeshire Police Authority agrees services merger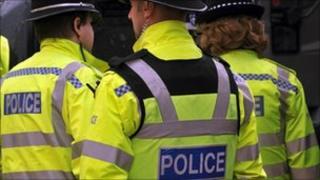 Plans by Cambridgeshire Constabulary to share some police services with neighbouring forces have been approved by the county's police authority.
Firearms, major crime, professional standards and scientific services units will be shared with Hertfordshire and Bedfordshire from early next year.
Cambridgeshire has not previously run merged services, unlike the other two forces.
The constabulary expects the move to save it up to £3m a year.
Hertfordshire and Bedfordshire police forces began to merge some services in 2007, and now have 13 joint units.
Job losses
Cambridgeshire's Chief Constable Simon Parr said: "It's been successful in Hertfordshire and Bedfordshire. They have 100% detection rate around murder, for example.
"We're going to join that success and spread it across Cambridgeshire, as well as balance our budget."
He also said a "sad casualty" of the merger would mean some job losses and fewer opportunities for officers in the the three forces to specialise.
"It's impossible for an organisation which has a budget that is so based on employing staff to take all the savings out of the organisation without there being some staff cuts," he said.
But it is too early to say how many jobs will go or from which police force. A staff consultation will be held.
Shaun Ryan, joint branch board chairman of Cambridgeshire Police Federation, blamed the government's 20% cuts to police budgets for the merger.
But he added: "We're not against mergers per se, so long as the efficiency of the force and the quality of service for the people of Cambridgeshire is not affected, and the savings made protect police officer jobs and numbers."
However, a survey of his members earlier in the year raised "welfare concerns", with officers worried that merged services would result in travelling much longer distances to arrive at jobs.
The chair of Cambridgeshire Police Authority, Ruth Rogers, said: "We look forward to the constabularies helping to ensure effective policing, whilst making the best use of resources for the three areas."