Cycle paramedic takes to the streets of Cambridge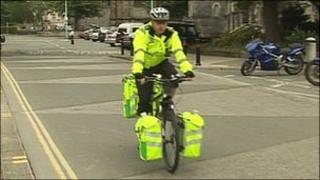 Paramedics in Cambridge will soon be using a bicycle to beat the traffic and improve response times.
The yellow and green mountain bike should be with a patient within minutes, dealing with all the same emergencies as regular ambulances.
Equipment on the bike includes oxygen and a defibrillator, together with blue flashing lights and a siren.
The East of England Ambulance Service said the scheme was to be piloted from 17 October for three months.
Darren Rutterford, head of the Cycle Response Unit for the East of England Ambulance Service said: "Cambridge, being a small but densely populated city visited by huge numbers of students, shoppers and tourists, seemed to be the ideal place to base a bike.
"Parks, shopping centres, pedestrian areas and heavy traffic are all difficult for traditional ambulances to reach but will become easily accessed with this new scheme."