Reading home to new Quintiles European headquarters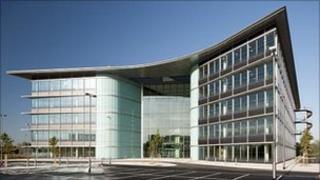 A US pharmaceutical giant has opened its European headquarters in Reading, Berkshire.
Quintiles, which has employees in 60 countries, has relocated 500 of its 2,000 UK staff to Green Park.
Health Minister Lord Howe said the move was "excellent news" and that it would aid "the development of new, innovative treatments for NHS patients".
Quintiles founder Dennis Gillings said "UK expertise" would help in the "the fast-morphing world of biopharma."
Founded in 1982, Quintiles employs 22,000 staff worldwide.
Services include the management of clinical trials on behalf of pharmaceutical customers.
The new headquarters follows the opening of a Quintiles laboratory and office in Edinburgh, Scotland in 2009 and the expansion of its drug research unit at Guy's Hospital, London in 2009.