Extra houses for Cambourne means £13.6m for facilities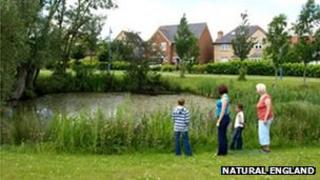 Over £13m will be spent on schools and leisure facilities at Cambourne in the next six to eight years.
MCA Developments Ltd is providing the money as a condition for building a further 950 homes at the purpose-built south Cambridgeshire village.
The bulk of the money will go towards a new secondary school, and a third primary school which is currently being constructed.
The rest will be spent on leisure facilities.
These include extensions to the library, the church and the community centre known as The Hub.
All-weather pitches will be built along with a new sports pavilion. The medical centre will also be extended and a youth centre built.
Cambourne was initially intended to be a site consisting of three villages totalling 3,300 houses.
So when MCA Developments put in a planning application for nearly 1,000 extra homes concerns were raised about whether the village's infrastructure could cope, according to the clerk to the parish council, John Vickery.
After extensive negotiations with the parish council, South Cambridgeshire District Council and Cambridgeshire County Council, MCA Developments agreed to provide the £13.6m for education and leisure facilities.