Cambridge University's 'first' black student pioneer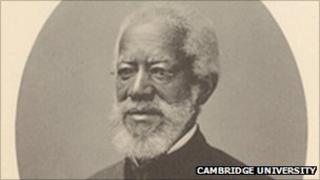 The story of Cambridge University's first officially recorded black student is being told as part of the university's Festival of Ideas.
Alexander Crummell was an American minister and the son of a freed slave who studied at Queens' College, Cambridge, in the late 1840s.
While it appears he was not the first black student at Cambridge, he is the first for whom official records exist.
Cambridge lecturer Sarah Meer said he was seen as an "object of curiosity".
She continued: "One of his servants, when she was dismissed by his wife Sarah, called the Crummells 'black devils', so they were obviously not immune to the kind of prejudice we might imagine."
But at the same time he was a mature student who "was a respected, grown-up figure".
During his university vacations he toured the country delivering anti-slavery lectures, and as a minister gave sermons in local churches.
Abolitionist movement
Slavery had been abolished on British soil in the early 1800s, and in British colonies in the 1830s.
The anti-slavery campaigners Thomas Clarkson and William Wilberforce were both Cambridge graduates and the university was seen as an important centre for the abolitionist movement.
Writing in 1847 Crummell said: "Perhaps no seat of learning in the world... has done more for human liberty and human well-being than this institution."
Crummell grew up in New York. His father was a freed slave and his mother a free-born woman from Long Island.
He attended one of the African Free Schools set up by New York abolitionists to educate the children of freed slaves.
But while slavery had been abolished in the northern United States, prejudice continued.
When Crummell and two of his New York classmates were awarded places at a secondary school in New Hampshire, they were driven away by an outraged local community.
He continued his studies in New York, and was eventually ordained in the Episcopal church, which is connected with the Church of England.
It was this membership of the Episcopal church which would later allow him to study at Cambridge. If he had been a Methodist or Presbyterian, Jewish or Roman Catholic, he would not have been able to take up a place at Cambridge until 1871.
After graduating Crummell spent 20 years in the freed slave colony of Liberia before returning to New York.
Dr Meer said: "Back in the United States he was a leader and writer who influenced many subsequent writers."
The university's connection with Crummell is being celebrated as part of the annual Festival of Ideas which aims to bring the work of the institution's arts and humanities research to the wider public.