Death crash drugs driver Jessica Reynolds jailed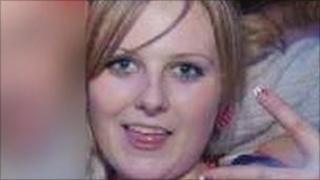 A woman who crashed a car into a tree near Cambridge while on drugs, killing two passengers and leaving five children fatherless, has been jailed.
Jessica Reynolds's car left the A1303 at Madingley, killing 25-year-old Kevin Wilkinson and Paul Barker, 40, in the early hours of 22 May 2010.
Reynolds, 20, of West Road, Caldecote, admitted causing death by careless driving due to drugs.
She was jailed for three years and four months at Cambridge Crown Court.
Mr Wilkinson, of Paget Road, Trumpington, and Mr Barker, of Antelope Way, Cambridge, were both back seat passengers in Reynolds's Peugeot 206.
They were leaving a party when they accepted a lift from Reynolds, then 19, an acquaintance.
The court heard she took a bend on the country road at 70mph and the car careered off the carriageway.
The car rolled and then struck a tree.
'Responsibility not accepted'
Police said Reynolds confirmed she had taken cocaine and mephedrone on the night of the crash, and tests showed she also had cannabis in her system.
Speaking after the hearing, Sgt Lyndon Pickston said the case had been complex because it was impossible to know how much Reynolds had taken.
"It was not helped by the fact that Jessica Reynolds has never provided a full account of the events on the night of the collision," he added.
"During the investigation, she did not accept responsibility for the death of her friends.
"Reynolds only pleaded guilty four days before the trial was due to start.
"This case should serve as a warning to anyone who takes controlled drugs and then drives a motor vehicle.
"Reynolds decided to take recreational drugs on a night out, but it ultimately cost the lives of two of her friends and now her freedom."