South Cambridgeshire travellers' pitch plans criticised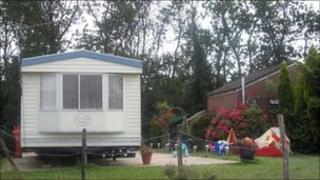 A district councillor has said he "will not accept" a report suggesting 114 new travellers' pitches should be provided in the south of Cambridgeshire by 2031.
Mark Howell, the district's cabinet member for housing, called the county council report "poorly written".
He said it would give travellers little choice where to live as the majority of pitches would be in his district.
The county council said its report was "designed to inform [district] planning discussions" and not provide "targets".
Cambridgeshire County Council published its report into Gypsy and travellers' accommodation needs in October.
'Local knowledge'
As well as 114 pitches in South Cambridgeshire District Council's area, it suggested one new pitch for Cambridge city, two for Fenland, 38 for East Cambridgeshire, and 53 each for Huntingdonshire and Peterborough.
Mr Howell said: "Each individual district has to decide on this even though the report was written by the [county] council."
He added that providing adequate traveller sites within Cambridgeshire would only be achieved if the councils worked together.
But Mr Howell said he was concerned that districts with fewer suggested new pitches would be unlikely to reject the report.
A county council spokesman said that the report's "model and the final figures were checked by officers in the districts".
"The survey is based on three main sources of information, each of which is of actual counted numbers of caravans or people," he said.
"The multipliers were based on other published local and national research, or on local knowledge of travellers."
Mr Howell added: "Our concern is, if there's a lack of pitches in other districts, where's the choice for the travellers?"