Cambridge United trophy cabinet's £5m hoax eBay bids removed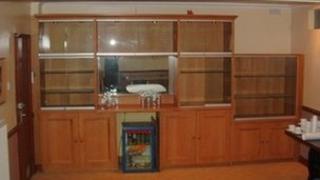 Hoax bids of up to £5m for a non-league football club's empty trophy cabinet have been removed from the online auction site eBay.
Blue Square Bet Premier club Cambridge United decided to sell the cabinet for £50 to raise funds for its supporters' group and a charity.
More than 40 bogus bids worth millions have now been removed.
The cabinet once housed an award for the best bacon sandwich in English football.
The cabinet, described by the seller as "a quality piece of furniture which would look great in anyone's home" had to be removed from the club during refurbishment.
John Bilboa from Cambridge Fans United (CFU) put the unit on the auction website for a "buy it now" price of £50.
"We decided it was better to try and sell it and raise some money, rather than put it on the bonfire," he said.
"It started as a bit of fun, but the lunatics got out of the eBay asylum and it went a bit berserk."
Mr Bilboa has now removed the bids which he said were obviously hoaxes.
He hopes the remaining ones, which have now reached more than £1,000, are genuine.
Proceeds will go to CFU and adult skills organisation the Rowan Humberstone Charity.