Ormiston Bushfield students show off sixth-form designs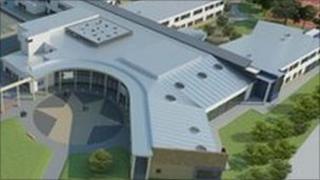 Pupils have been showing off their own designs for a new sixth form centre that will be part of a £20m academy school in Peterborough.
Ormiston Bushfield Academy students included cashless-catering and interactive whiteboards in their plans.
Head boy Callum Alexander, 16, said: "We also wanted to have the best wireless internet network of any sixth form in Peterborough."
He said that helping to design it would "make for a happier environment".
"I didn't think they'd listen to us as much as they have, but we are the ones who are going to be using it," Callum added.
The former Bushfield Community College became an academy in September 2009.
Plans for the new academy building were approved in August 2010.
It is expected to be completed in time for the start of the September 2012 term.