Terra Nova concerto premiere marks Captain Scott's 100th anniversary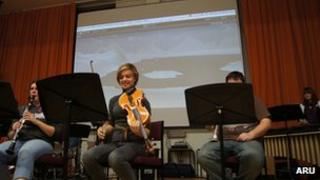 A hi-tech concerto marking 100 years since Captain Scott's Antarctic expedition is to premiere in Cambridge.
Terra Nova was composed by Dr Julio d'Escrivan, a reader in creative music technology at Anglia Ruskin University.
The orchestral score will accompany a "virtual Antarctica game" with original images from the 1911 expedition, which will be projected onto a screen.
The computer game will be played live by its creator, student Matt Hollis, throughout the concert.
He will attempt to complete three levels which recreate Scott's expedition - setting up the camp, a trek to collect penguin eggs, and the "final assault" on the South Pole.
The musicians will take their cues from the conductor, according to how Mr Hollis progresses through the game.
'Amazing journey'
Members of Anglia Sinfonia will be accompanied by the Mechanical and Electroacoustic Music Ensemble, who will use laptops to create appropriate sound effects.
"They will all have to react to the player," Mr d'Escrivan said.
"So, if Scott falls off a cliff - which he tends to do a few times because it's a difficult game - the conductor will give the musicians a cue to play the 're-spawning' theme, because it's a game so he will be brought back to life.
"The conductor has a set of visual cues like that one, so hopefully the orchestra is ready to play the next bit."
He described the concerto as "an anti-video game".
"Games tend to be a little isolating but this brings lots of people together to celebrate Scott's amazing journey."
The Scott Polar Research Institute in Cambridge has provided original images from the expedition, which are used in slideshows marking the player's progression from one gaming level to the next.
Mr d'Escrivan said the performance would be "a little bit like a silent film".
"But the orchestras back then would know what was going to happen. Here they won't know what the player's going to do next."
Terra Nova premieres at West Road Concert Hall in Cambridge on Monday.