Cambridge University Hospitals named top trust in region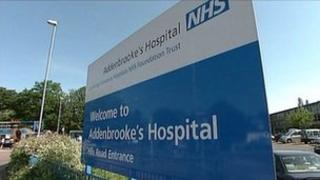 Cambridge University Hospitals has been named as the top trust in the Midlands and East Anglia region by an independent health watchdog.
The NHS foundation trust runs Addenbrooke's Hospital and the Rosie Hospital in Cambridge.
It has been named as one of four trusts of the year across the country by the health research organisation Dr Foster Intelligence.
The title was based on the trust's safety record and patients' views.
One hospital in each of the newly-created NHS regions has been given the Dr Foster award based on its patient mortality figures and the results of patient questionnaires.
The NHS Midlands and East Anglia region was created by the Government in October and covers 15 million people.
Dr Gareth Goodier, chief executive of Cambridge University Hospitals, said: "I am very proud of this result because there is no subjectivity in the choice of winners.
"When things go wrong, we respond immediately to investigate and learn from events."