Cambridge homeless charity Flack must raise £45,000 or close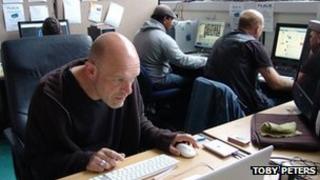 A charity supporting homeless people in Cambridge will close in January if it cannot raise £45,000.
Flack was established two years ago and runs a training centre in the city as well as publishing a monthly magazine, written and produced by the homeless.
Its trustees said it must raise the sum to prove to "major funders" that it could sustain itself for six months.
Trustee John Cleghorn said initial funding had "dried up" and Flack could not continue on "a shoestring".
The charity currently offers training and support to 33 homeless people at its Cambridge drop-in centre.
Kirsten Lavers, creative director, said: "We've achieved a great deal but the trustees have reluctantly decided that we've gone as far as we can."
'False economy'
Mr Cleghorn said the trustees had little choice but to make what was "a very hard decision".
"What the charity needs to do is keep itself going until August, and that will cost it £45,000," he said.
"We need that time to attract major investors to what is essentially a small business.
"Funding itself will buy us the time to demonstrate what we have done, and can do, but we just can't continue to do it on the thinnest of shoestrings, which is what we have at the moment."
Ms Lavers said closing the charity would be "a false economy" as it was supporting and training people who might otherwise still be on the streets.
"That could cost the state thousands each year in terms of health and criminal justice costs," she said.
The charity's fund-raising drive is being supported by its patron, actor Tom Hardy.