Bronze crocodile stolen from Cambridgeshire farm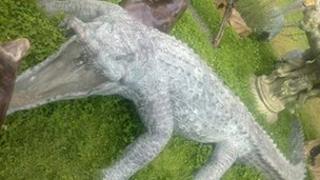 Thieves have taken a "rare and valuable" bronze crocodile statue from a Cambridgeshire farm.
The 16ft (5m) sculpture was stolen along with two bronze pixies from a crocodile farm near Huntingdon on Tuesday night.
Owner Andy Johnson said: "It must have taken about six of them to carry the croc as it weighs about half a tonne."
He said: "All I can hope is that they drop it on themselves and break something."
'Go walkabouts'
Mr Johnson opened the crocodile farm in 2006 and added the sculpture garden to encourage the public to visit.
He said it was very popular with children who visited the farm and the thieves had "spoilt it for everyone".
"We've got six crocodiles here and I just wish they'd tried to take one of the real ones."
Mr Johnson said he could not afford to replace the sculptures "if they are just going to go walkabouts".
Cambridgeshire Police investigating the theft said the bronze crocodile was worth "several thousand pounds".
They have appealed to anyone offered the statues to contact the force.