Chief constable backs 'restorative justice' for youths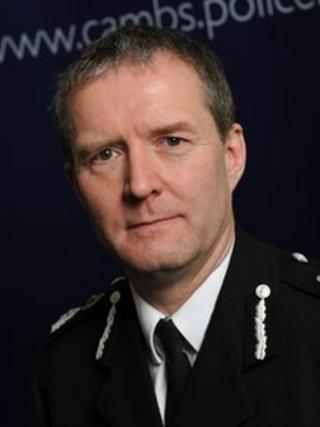 Youths who commit a "minor offence" should not be criminalised, Cambridgeshire's chief constable has said.
Simon Parr said he was encouraging officers to consider "restorative justice" instead of prosecutions.
More than 1,000 offenders in Cambridgeshire have been dealt with using the system since April, with 51.9% of cases involving youths.
The scheme allows victims to help decide punishments for low-level crime.
Mr Parr said: "Arrests are just one of the options available to officers when dealing with a child suspected of a crime and it is not always the most appropriate option.
"I certainly do not want to see children who have committed a minor offence criminalised for their actions."
Police said restorative justice had saved 8,000 policing hours and solved an extra 2.4% of crimes in the county since April.
Victim approval
In one case, a youth who caused £100 of damage to a sports pavilion avoided a criminal conviction by apologising and picking up litter.
An adult who stole £58 of stock from a shop in another case apologised, paid for the items and swept a car park.
Mr Parr said: "Officers in Cambridgeshire are being encouraged to use their professional judgment and look at all the options available to resolve a criminal investigation involving a minor offence, especially when dealing with children.
"Restorative justice provides an alternative to the traditional process of arrest and punishment. That said, the needs of victims remain a priority and are always considered.
"It cannot be used to deal with serious crimes or for repeat offenders and can only be used where a person has admitted their guilt, shown remorse and is willing to apologise and make amends."
Police said research showed people were less likely to reoffend if they were kept out of the criminal justice system.
In Cambridgeshire, 8% of those dealt with using restorative justice since April had committed further crimes, police said.
The Ministry of Justice said the scheme was being extended following successful trials by a number of forces.
A spokesman for Victim Support, a charity that helps victims of crime, said: "Restorative justice can give victims the answers and apology they quite often need to move on.
"It also makes offenders think about the impact of their actions and face up to them."