Peterborough railway station to get £43m upgrade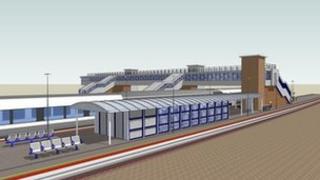 A £43m upgrade of Peterborough railway station has been announced by Network Rail.
Improvements include bridges, lifts, platforms to accommodate longer trains and a new "goods loop" to increase freight capacity.
The company said the work was necessary as Peterborough was "a strategic transport hub" catering for more than four million passengers a year.
The work is expected to be completed by the end of 2013.
A spokesman said the improvements would be phased to ensure "very little disruption" to passengers.
"Peterborough is not only a critical local station, but also one of the main stops on the East Coast Mainline, and we really can't be doing too much to disrupt passengers on there," he said.
"The new platforms we're building will be exclusively for cross-county east-west services.
"Those will enable us to separate out the east-west and the north-south services. At the moment, mixing those together can be a major cause of disruption to passengers."
The project is being carried out alongside a £2.5m programme to improve the main station building, which is being delivered by train operator, East Coast, and Network Rail.