Yellow 'eyesore' car park at Addenbrooke's gets go-ahead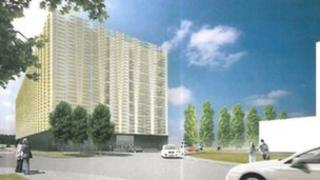 A nine-storey yellow car park, described by a conservation group as "an eyesore", is to be built at Addenbrooke's Hospital in Cambridge.
Planning permission was granted by Cambridge City Council.
Robin Pellew from Cambridge Past, Present and Future, said his group did not object to the size of the 1,200-space building, only to the colour.
A council spokeswoman said the design was "imaginative" and only 25% of the structure would be yellow.
The new car park will form part of the hospital's 20/20 expansion plan which could see the footprint doubling in size in the next 20 years.
'Sore thumb'
Mr Pellew said his group understood the need for a car park to accommodate more staff and patients at the proposed "medi-park".
"This one is particularly large, but it's not so much about the size because a lot of the buildings are going to be on that scale, and it will be clustered with them," he said.
"It's this bright yellow colour we object to.
"It's meant to reflect the oil seed rape fields, but that's only put in about every three or four years, so saying that seems a bit far-fetched."
He said that before the rest of the proposed buildings were erected the car park would "stand out like a sore thumb".
The council spokeswoman said: "The cladding to the car park structure is made of twisted aluminium bands, with yellow on one side.
"The exact shade of yellow will be agreed through a condition attached to the approval which requires further details to be submitted to the council.
"This will include production of a mock up."