Cambridge bakers say 'affordable luxuries' can buck trend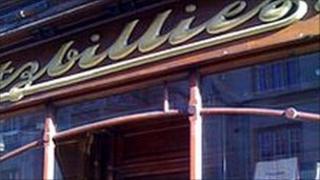 A couple who saved a 90-year-old bakery after it went into administration say firms providing affordable luxuries can thrive, despite the economic slump.
Fitzbillies in Cambridge, which is known for its Chelsea buns, counts Stephen Fry as a fan.
Owner Tim Hayward said: "No matter how tough things get, we are working in the area of affordable luxuries.
"Our last affordable luxury will be a sticky bun and a cup of coffee, when everything else goes to the wall."
The shop was described by an independent traders' organisation as "part of the DNA of Cambridge for 90 years".
When it was forced to close early this year, ex-Cambridge student Stephen Fry used his Twitter account to voice concerns that a great city tradition was to be lost.
'Massively efficient'
Mr Hayward and his wife Alison Wright invested £100,000 of their own money into renovating and reopening the cafe.
Four months on, they say the independent business is thriving and is proof that Cambridge is not a "clone city".
In its 2010 report, Clone Town Britain, think tank New Economics Foundation named the city as "the UK's most cloned town".
It said Cambridge managed "only 11.6 on the diversity scale (out of a possible 100). Only nine varieties of shops are found on the main high street".
"When we took over the bakery, it struck me that the people of Cambridge were really hurt by the accusation they were a 'clone town' dominated by chain stores," Mr Hayward said.
"People come in daily and thank us for bringing the bakery back specifically as an independent."
He admitted he thought his wife was "out of her tree" when she suggested moving from London to take over the shop during the recession.
However, within a few months the couple expanded from bakery, to lunchtime cafe, to offering dinner in the evenings.
Mr Hayward puts the business's success down to "being massively efficient".
"We've retained the right bits of the old business to bring back the old customers, and the new services are bringing in people who perhaps wouldn't have come before.
"I think it should be a sustainable business and we're definitely in it for the long term." he said.