'Pay-per-go' toilet plan gets go-ahead for Fenland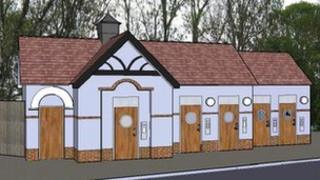 About £500,000 is to be spent on modernising public toilets, charging for their use, and closing others in four Cambridgeshire market towns.
Fenland District Council is introducing the "pay and go" facilities in Wisbech, Whittlesey, Chatteris and March.
Seven of the 11 council-operated toilets will close, leaving only one pay-to-use convenience in each town.
The council said the closures would save about £60,000 a year and payment could generate up to £15,000 per year.
Alan Melton, leader of the Conservative-controlled council, said the towns' toilets had not been refurbished for 10 years, and its 11 facilities cost more than £100,000 a year to maintain.
"Spending £500,000 may sound like a lot of money, but not when you think about what it's costing us to keep the current toilets going," he said.
"This is a business decision we've made to provide a value-for-money service. We will get our money back within five or six years."
Concerns raised
The total cost of modernising the four sites is expected to be £465,000.
A further £35,000 has been put aside for demolition work on the other facilities.
Town councillors raised concerns that the proposed facilities would not be sufficient during busy periods, including local festivals and other events.
The district council accepted that certain times of the year "other arrangements would need to be made".
Town councils were also given the option of taking over the threatened facilities, which they declined.
The new toilets are expected to open in the spring.