St Neots' £8m cinema and theatre given go-ahead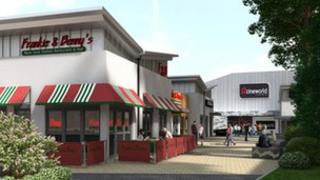 St Neots is to have its own cinema after years of campaigning by its town council and residents.
In 2006 Peter Rowley, a US-based millionaire with links to the Cambridgeshire town, donated about £1m for a leisure facility in the town.
Residents were consulted and in 2007 said they favoured a cinema.
Planning permission for an £8m cinema, theatre and restaurant complex has now been granted by Huntingdonshire District Council (HDC).
Councillor Doug Dew, chairman of the HDC's development management panel, said: "I'm aware that it has been a long held community aspiration for St Neots to enhance the vitality of its town centre.
"Particularly with regard to further developing the vibrancy of its night time economy."
'Boost local economy'
Barry Chapman, the mayor of St Neots, said: "I am absolutely over the moon about this, as it means that St Neots will have a leisure development which will be the envy to the whole of the South East.
"It will anchor and underpin retail in town, bring 200 jobs, and boost our local economy."
One of the cinema's six screens will also be capable of putting on theatre and live performances, which Mr Chapman said was "unique for this sort of development".
In 2007 Mr Rowley said he would prefer that his donation was spent on a movie theatre complex or an outdoor swimming pool.
His family originally came from St Neots, where they have been lords of the manor since 1902.
The rest of the £8m for the development will come from the developers, Turnstone Estates.
The cinema complex will be built on the site of a former recycling centre on Huntingdon Street and is scheduled to open in spring 2013.