Mechanical reindeer Desmond stolen from Wansford garden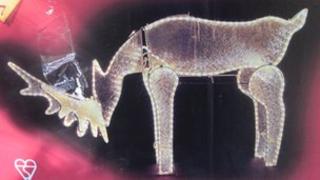 Thieves have taken a mechanical reindeer from a Christmas display in a Cambridgeshire family's front garden.
The 1m (3ft) high animatronic illuminated reindeer known as "Desmond" had been displayed in the village of Wansford for six years.
Owner Jane Tate said she had no idea how popular Desmond was with local children until he disappeared.
"Everyone is asking where Desmond has gone. He looked quite spectacular and all the village loved him," she said.
Desmond had white rope lights over a plastic and metal frame.
One of his legs did not work properly and the lights on one antler were partly broken.
The reindeer was connected to a sleigh driven by a teddy bear dressed as Santa Claus.
'Talking point'
On the night of the theft, the Tates had taken the sleigh and bear indoors because of bad weather, but Desmond was left out under a tree.
Mrs Tate does not think the reindeer was taken by opportunists.
"His lights were plugged into an outdoor safety socket which was covered and taped down," she said.
"Whoever took Desmond must have had insulated cable cutters because they tugged so hard, they pulled the mains wiring out before cutting it."
She said Desmond's disappearance had become "quite a talking point".
"We went to a garage we've not been to before, and the owners had heard about Desmond being taken.
"One morning we had a traffic jam outside our house. A little girl had asked her parents to stop because she couldn't see Desmond in his usual place."
Mrs Tate said the police were aware of the theft.
"I didn't want to bother them as I'm sure they've got much better things to do, but they were lovely about it.
"They said we were right to report it because it might not just have been Desmond that was taken from the village."