Arthur Rank 'Hospice at Home' in Cambridgeshire to expand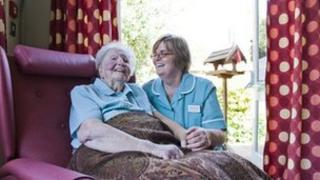 A charity has pledged up to £750,000 a year to expand its Hospice at Home service for terminally-ill adult patients in Cambridgeshire.
The Arthur Rank Hospice Charity, based in Cambridge, already runs a small care service for patients who choose to spend their last days at home.
However, it said more people wanted to have that option and the money will be used to fund the scheme for two years.
The service, which costs the charity £250 per night per patient, is free.
The funding will be used to recruit additional trained nurses and healthcare assistants to provide specialist end-of-life care to patients.
Lorraine Moth, lead nurse at the Hospice at Home scheme, said: "Death is still a taboo subject in our society, but it is something we all face.
"Many people would prefer to die at home, but that this is not always possible."
'Emotional support'
Mrs Moth said many families felt "overwhelmed and unable to cope".
"Hospice at Home provides specialist health care for the last two weeks of someone's life.
"That enables families to care for people at home while giving them emotional support and valuable respite," she said.
The Arthur Rank Hospice Charity will provide the service in conjunction with Cambridgeshire Community Services NHS Trust.
The trust was established in spring 2010 to provide health and social services within the community.
The charity is hoping the pilot scheme will "provide the evidence the service is needed" and encourage funding from other sources.