Cyclist saved by cycle helmet in Cambridge crash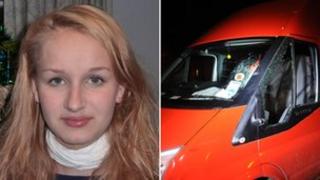 A teenage cyclist whose head smashed a van window in a crash in Cambridge believes her cycle helmet saved her life.
Rebecca Harri, 13, was riding along Cherry Hinton Road in Cambridge when she was was knocked off her bike by a van about 16:30 GMT on Tuesday.
Rebecca, who lives in Cherry Hinton, was knocked unconscious as her head smashed the van's window.
But she believes the cycle helmet she was wearing saved her.
"It is amazing," she said. "I am pretty sure if I hadn't been wearing the helmet, I wouldn't be here."
The van driver failed a roadside breath test and was later convicted of drink-driving and banned from driving for two years.
Paramedics treated Rebecca at the scene for 40 minutes before she was transferred to Addenbrooke's Hospital in the city.
She is now recovering at home.
Rebecca's father, Joel Harri, 45, was riding in front of his daughter when the crash took place.
"I heard a bang then turned my head," he said. "She had been hit and was slipping and tumbling on the pavement.
"It was the worst two minutes of my life."