Teen held over Chittering Llywelyn Thomas death freed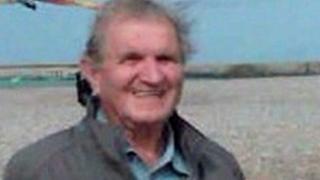 A teenager, arrested on Friday over the death of a 76-year-old man whose body found in his Cambridgeshire home, has been released without charge.
The body of Llywelyn Thomas, originally from south Wales, was found after police were called to his home in Ely Road, Chittering, on Sunday.
Post-mortem tests found he died from injuries to his face and head.
Det Supt Jeff Hill said Mr Thomas could have died in a burglary which went wrong and he appealed for information.
Mr Thomas was born on the outskirts of Cardiff and farmed in the Bridgend area before moving to Cambridgeshire 12 years ago.
Noisy car
He was a widower with one adult son and no grandchildren.
His silver Rover estate, registration BJ51 CJV, was stolen from his home and later found in Church Lane in Milton, north east of Cambridge.
Forensic examinations are continuing of the car and at the house.
Det Supt Hill said: "I would urge people who were in the area of Chittering and Milton to think back to last Saturday.
"Did you see anyone acting suspiciously or this silver Rover estate being driven along the A10.
"It had mechanical defects so would have been very noisy and only able to reach low speeds.
"Most of us are looking forward to enjoying Christmas tomorrow with our friends and family.
"Spare a thought for the relatives of Mr Thomas who are trying to come to terms with losing a loved one in such a distressing way."