CBE for Professor John Wallwork, retired Papworth surgeon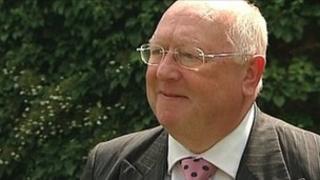 A retired surgeon who performed Europe's first successful heart-lung transplant has been appointed CBE in the New Year Honours list.
Professor John Wallwork, professor of cardiothoracic surgery at Papworth Hospital in Cambridgeshire, is recognised for services to healthcare.
"It's a great thing to get, as a CBE is usually given for something you've done yourself," he said.
"But it will also be wonderful for raising the profile of Papworth."
Papworth Hospital was where Prince Philip underwent heart surgery last Friday after being taken ill as the Royal family gathered for Christmas at Sandringham.
'Very busy'
Professor Wallwork added: "I'm very pleased, but it is especially good as there are lots of changes planned for the hospital, including a move to a new site.
"In particular, I hope this will focus attention on the work that is done there - as if the events of last week and the Duke of Edinburgh were not enough to do that."
The professor retired in the summer and at the time said he planned to spend more time in his garden and indulging his love of cookery.
"I have actually been very busy since then and of course I can't do much in the garden at this time of the year," he said.
"I have been doing a lot in the kitchen, though. I cook for the family and for dinner parties.
"We're having a party for New Year and I shall be doing some food for that."
Professor Trevor William Robbins, FRS, director of the Behavioural and Clinical Neuroscience Institute at Cambridge University, was also appointed CBE for services to medical research.
Dr Paul Zollinger-Read, former chief executive of NHS Cambridgeshire, was also appointed CBE for services to the NHS.
Other people from Cambridgeshire to be recognised in the New Year Honours List are:
Knights Bachelor
Dr Venkatraman Ramakrishnan, a Nobel Prize-winning scientist at the Medical Research Council, for services to molecular biology
Professor John Gerald Patrick Sissons, Regius Professor of Physic at Cambridge University, for services to research and education in clinical medicine
Poet and critic Professor Geoffrey William Hill, for services to literature
Royal Victorian Order (MVO)
Matthew Norman Hawkshaw Moss, private secretary to the vice-chancellor of Cambridge University was appointed MVO, an honour awarded in recognition of services to the Royal Family
OBE
Dr David Charles Pencheon, director of the National NHS Sustainability Unit at the East of England Strategic Health Authority, for services to public health and the NHS
Trudy Couchman from the Ministry of Defence
MBE
Maureen Adams, founder of the regional HIV/Aids service in Peterborough, for services to people affected by HIV/Aids
Michael George Baker, for services to the community in Huntingdon
Peter Carpenter, honorary executive secretary of the University of Cambridge Kurt Hahn Trust, for services to Anglo-German relations and higher education
David (Boy) Robert Green, for charitable services, particularly to boxing
Christopher Michael Heaton, of Cambridgeshire County Council, for services to libraries
Dr Caroline Mary Heaven Herbert, chief executive of the Red Balloon Learner Centre Group, for services to education
Richard Howe, former executive director of estates and facilities at Cambridge University Hospitals NHS Foundation Trust, for services to the NHS
Ping Nam Lee, for services to the Chinese community in Cambridge
Rosemary Pennington, for services to the community in Cambridge
Eileen Patricia Wheatley, a former senior social worker with Cambridgeshire County Council, for services to children and young people