Chittering murder victim 'alive after Strictly Come Dancing'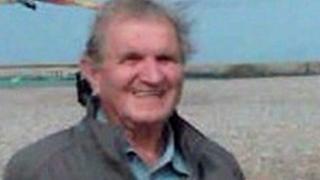 A man found dead at his home in Cambridgeshire was alive at the end of the BBC's Strictly Come Dancing final the previous evening, it has emerged.
Police said it had come to light that Llywelyn Thomas, 76, of Chittering, had spoken to a friend on the phone at about 20:20 GMT on 17 December.
He was found with face and head injuries at 12:30 GMT on 18 December.
A man and woman arrested in connection with the death have been bailed until February.
Car stolen
Mr Thomas, who farmed in south Wales before moving to Cambridgeshire, was last seen alive at 18:30 GMT on 17 December.
He spoke to a friend in Wales between the end of the Strictly Come Dancing final and the beginning of the results show, at 21:00 GMT.
Det Supt Jeff Hill said: "This latest information means we now know Mr Thomas was alive at about 20:20 GMT, which means we can specifically appeal people who were in the Chittering area after that time."
Detectives believe Mr Thomas may have been killed after a burglary went wrong.
His silver Rover 75 estate, registration BJ51 CJV, was stolen from his home in Ely Road, and later discovered in Church Lane, Milton.
It is thought to have been left there between 23:00 and 23.30 GMT on 17 December.
It had mechanical issues and would have made a lot of noise and been travelling slowly.
'Vital information'
Det Supt Hill said: "I would urge people to think back to what they were doing two weeks ago.
"We now know Mr Thomas was probably killed between 8.20pm and 11.30pm.
"It is vital that anyone who was on the A10 between Chittering and Milton between those times and saw this silver car, or anything else suspicious, call police.
"People may remember watching the Strictly final and might have popped out after it had finished. If so, did you see anything that may assist our investigation?
"Any information, no matter how small or insignificant it may seem, could be vital in bringing whoever is responsible to justice."