Cambridgeshire storms: Two hurt by smashed train window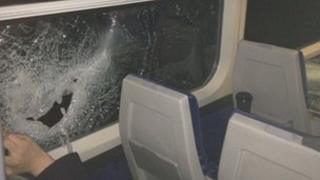 Two people were injured when a window was smashed on a train in Cambridgeshire as high winds damaged overhead cable equipment.
Train services were replaced by buses on the route between King's Lynn, in Norfolk, and London, causing delays of around 90 minutes.
Ambulance crews said one passenger suffered a head injury and another a leg injury.
The incident happened near Ely at about 07:20 GMT.
Passenger Jo Smith, 55, from Littleport, said a carriage window had been blown into the train.
"There was an almighty bang down the side of the train," she said.
"One of the windows had come down completely."
A spokeswoman for First Capital Connect said around 150 people on the train were transferred to buses.
She said the overhead line equipment had been damaged and added staff were investigating what caused the damage to the carriage window.
An ambulance service spokeswoman said the two passengers were treated at the scene for minor injuries.
Elsewhere in Cambridgeshire, emergency services reported dozens of weather-related incidents, with trees blocking many roads.