Removing fear of crime 'a priority' for Cambridgeshire Police in 2012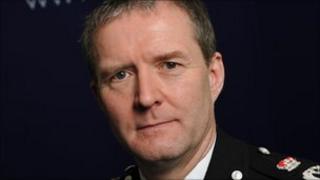 Removing the fear of crime from victims and placing it "firmly on the shoulders of offenders" is a priority for 2012, Cambridgeshire's chief constable says.
Simon Parr also placed community policing at the centre of Cambridgeshire Police's agenda.
He believed the force could continue to work within budgetary constraints "without the public feeling less safe".
The force has had to cut its budget by 20% following the government's 2010 Spending Review.
Mr Parr admitted the imposed cuts would be "more challenging over the next year or two".
'More freedom'
"Can I cut the budget?
"Yes. Any fool can do that by taking a red pen and putting lines through things," he said.
"What we're trying to do is answer a slightly more intelligent question - can you take money out of the organisation and still deliver policing?"
He said the force was "trying to take money out of parts of the organisation that the public don't see and won't feel as much".
Mr Parr said the number of senior and middle-management staff was being reduced, however, he confirmed that officers and PCSOs were continuing to be recruited "to keep numbers up".
"The government getting rid of great big national targets has been beneficial... meaning much more freedom for our area commanders.
"This means that wherever you are in the county, if something is important to you, the police can crack on and deal with that," he said.
"That's much more important than meeting some anonymous national target.
"They, and their dedicated teams, now have the freedom to do what the community wants."