Llywelyn Thomas murder: Vehicles stopped one month on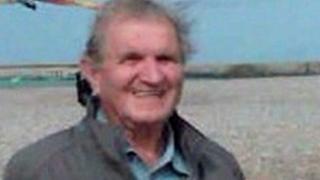 Police investigating the murder of a 76-year-old man are to carry out spot checks on a road in Cambridgeshire.
Llywelyn Thomas was found dead in his house in Ely Road, Chittering, on 18 December after suffering head injuries.
On Saturday, police will stop vehicles on the A10 between Chittering and Milton, appealing for information about the death.
They particularly want to hear from anyone who saw Mr Thomas' silver Rover 75 estate on the night of 17 December.
Police believe Mr Thomas, who had been a farmer in South Wales before moving to Cambridgeshire 12 years ago, may have been killed in a burglary that went wrong.
Post-mortem tests found he suffered face and head injuries. He was a widower with one adult son.
The car was stolen from his home and later found in Church Lane, Milton, north east of Cambridge.
Det Supt Jeff Hill said: "We know the car had mechanical problems so would have been noisy and travelling very slowly.
"We will be asking motorists to think back to that day, they may remember having been stuck behind a slow moving vehicle.
"We need to know what time that car was on the road and where the occupants went to after leaving the vehicle in Milton."
A 22-year-old man and a 21-year-old woman remain on bail in connection with the investigation.