Llywelyn Thomas murder police stop 1,000 vehicles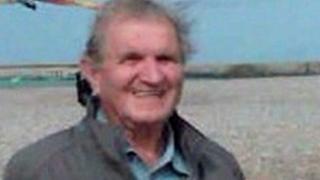 Police investigating the murder of a 76-year-old man in Cambridgeshire have stopped more than 1,000 cars in their attempts to trace his killer.
Llywelyn Thomas was found dead in his house in Ely Road, Chittering, on 18 December after suffering head injuries.
Officers carried out stop checks on the A10 between Chittering and Milton on Saturday to find out more about the widower's death.
The information gathered is now being reviewed by police.
Detectives wanted to hear from anyone who saw Mr Thomas' silver Rover 75 estate on the night of 17 December.
Police believe Mr Thomas, who had been a farmer in South Wales before moving to Cambridgeshire 12 years ago, may have been killed in a burglary that went wrong.
Post-mortem tests found he suffered face and head injuries. He was a widower with one adult son.
Drivers were asked if they remembered being stuck behind Mr Thomas' car on 17 December.
It was stolen from his home and later found in Church Lane, Milton, north east of Cambridge.
The car had mechanical problems and would have been noisy, police said.
A dedicated webpage has been set up with a picture of Mr Thomas' car and details of the latest updates on the investigation.
A 22-year-old man and a 21-year-old woman remain on bail in connection with the investigation.